Vega Evo: the new waste for shower trays with encumbrance 70 mm only
5661
With a smaller encumbrance (only 70 mm) than to similar products, VEGA EVO is the new trapped waste for shower trays with a 90 mm diameter hole.
VEGA EVO is produced in polypropylene with a chromed ABS covering grid and AISI 316 stainless steel flange and it is equipped with a special gasket with three blades suitable for both acrylic and ceramic shower trays.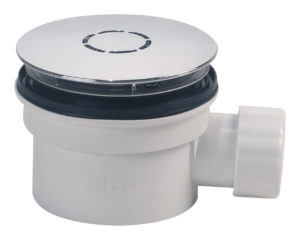 The grille, siphon and hair retainer basket are all removable for periodic cleaning and VEGA EVO can be completely inspected, thanks to direct access to the drain pipe.
VEGA EVO, although its small size, is made in conformity with European UNI EN 274 standards : water seal and water flow rate are according to the normative.